5 reasons why you should invest in your front doors
Modern front doors emanate luxury, importance and home security.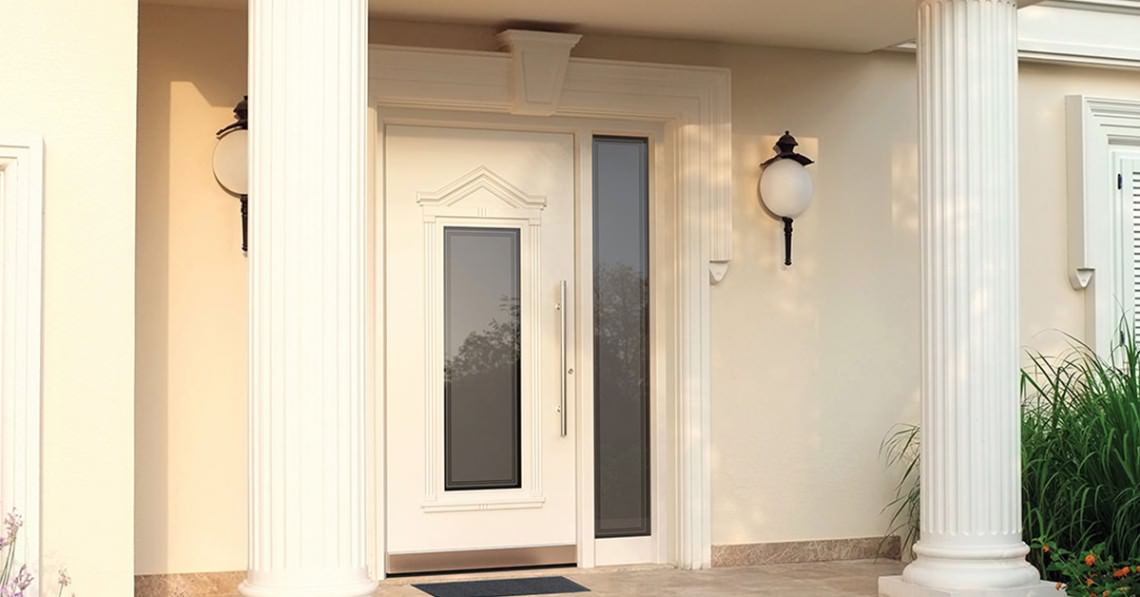 The importance of a high-quality front door simply cannot be underestimated. Not only does a beautiful, modern front door emanate luxury and importance, it also plays the most crucial part in ensuring your home's security
Below is an overview of five crucial elements describing why investing in your front doors is a smart decision:
1. STUNNING FIRST IMPRESSION
The appearance of your front door can make or break your home's perceived value. Whether you're looking to rent out, sell or simply astonish your visitors with the appearance of your home, front doors are quite literally the best place to start. Your front door is the very first (as well as the last!) object your guests notice and, as we all know, first impressions do count. Beyond creating a quality, luxurious impression, handmade front doors can also reflect your personality and personal design preferences. Make it count and choose doors that perfectly represent your character!
2. INCREASE THE VALUE OF YOUR HOME
High-quality doors can dramatically improve the value of your home. They transcend the aesthetics of your house and bring it to an entirely new level, but that's not all they do. Studies have shown that handmade front doors provide an excellent investment as they increase the overall value of your home. At Pirnar, we're dedicated to providing not only visually impressive, but also luxurious doors that will exceed expectations and provide you with a fantastic opportunity to gain the attention of potential buyers instantaneously.
3. BOOST YOUR HOME'S ENERGY EFFICIENCY
By upgrading your front door, you could save thousands in energy costs. When choosing your new front door, one of the most important aspects to consider is insulation. New doors provide exceptional energy efficiency and enable you to return the investment in only a few years. As weather conditions grow more and more unpredictable, it is important to consider the environmental effects of old doors that simply cannot keep up with contemporary design.
4. VASTLY REDUCE MAINTENANCE COSTS
Do you want to know another reason why replacing your old front door is absolutely a good idea? Old doors not only provide a security issue but also come with a plethora of maintenance costs. As every homeowner knows, maintenance costs cause a loss of money as well as endless frustration and loss of time. By choosing high-quality doors you can truly rely on, you can rest assured that your front door won't be adding to your list of maintenance costs.
5. SECURITY
What is the aspect that is at the core of every loving home? Security. Regardless of whether you're living in the hustle and bustle of the city centre, out in the suburbs or surrounded by fields and nature, home security is no laughing matter. Sturdy and reliable front doors are the only guarantee that you and your family feel protected and at peace. At Pirnar, we take your security seriously, which is why we have developed smart home technologies to maximise the security potential of every door. Forget about old-school keys and the panic every time you lose them – our facial and fingerprint recognition technology ensures unparalleled security and ease of mind.
Not sure where to start? Pirnar makes choosing your new front doors easy. Through continuous development, we have managed to ensure all our front doors fulfil the five criteria described above: maximum security, a considerable increase in value, unparalleled energy efficiency, impressive curb appeal and substantial reduction of maintenance costs.
We're proud to present our award-winning doors that emanate luxury and bring a smile to your face every time you return home.
---
---
Catalogues
Download catalogues for the latest and most innovative Pirnar entrances. Browse them together with your loved ones.