Guide: Buying the perfect entrance doors
In order to help you make the best decision, we have drawn up a complete guide to the most important entrance doors characteristics that will help you select a door that will last decades.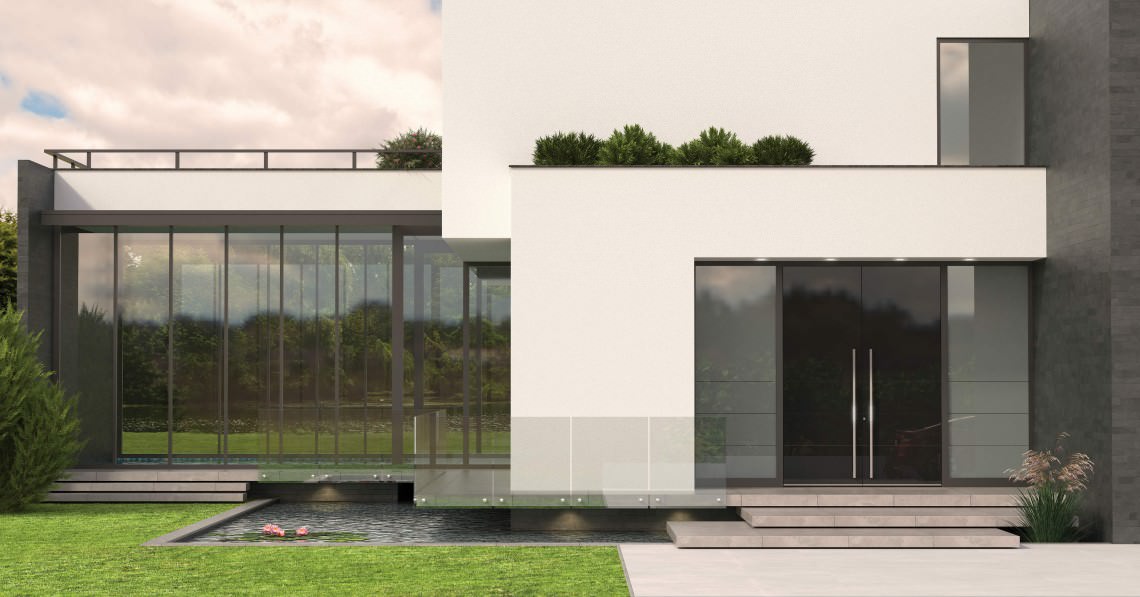 Table of Contents
The purchase of a new entrance door is a long-term investment. That's why it's important to make a prudent decision and read up on the key characteristics of quality doors as well as the shortcomings associated with substandard entrance doors. When choosing a door, various aspects should be considered, including price, material or material combinations, workmanship, technical specifications, functionalities, ease of maintenance and aesthetics. In order to help you make the correct decision, we have drawn up a complete guide to the most important entrance door characteristics that will help you select a door that will last you decades.
An entrance door is an extremely important element of your home because it delimits your personal space from the outside, ensuring privacy in your home and offering protection from cold, heat and uninvited visitors. An entrance door is the barrier between "home" and "the outside", the boundary between "us" and "them". Without your permission, no one may pass through your entrance. That is why entrance doors have occupied a prominent (symbolic) role throughout human history. What is more, an entrance has always been an important part of personal identity since it also represents the person living inside.
Your entrance door selection will be influenced by more than its fundamental function, i.e. the boundary between your home and the outside world. If you want to be stimulated, surprised and inspired by your entrance door, which at the same time offers reliable protection as well as freedom, continue reading and learn how to select the perfect entrance door for your home.
The best entrance door materials
The selection of the right material for your entrance door is extremely important not only from an aesthetic point-of-view, but also due to its functionality, durability and ease of maintenance. Every material has a set of structural properties, including natural transmittance, structural rigidity etc., which makes it either more or less suitable for entrance doors. The most quality, environmentally friendly and durable materials used in the production of entrance doors, which are also the most popular among homeowners, include wood, aluminium and glass (and their combinations).
Aluminium entrance doors
Aluminium is an eco-friendly material characterized by excellent structural capacity and deformation resistance, making it one of the most durable materials in the world that is guaranteed to retain its original form and appearance for decades with minimal maintenance. Aluminium is an extremely durable material resistant to weather and temperature changes, making it more than suitable for practically every home.
The structural properties of aluminium make possible the production of entrance doors of various (even above standard) dimensions and offer infinite possibilities when it comes to surface treatment options for unparalleled aesthetics. Aluminium doors are available in a broad range of colours, from smooth, matte shades to metallic and structured tones. Aluminium is the synonym for contemporary, elegant and attractive. It best matches a modern home. However, thanks to its flexibility, aluminium doors can also be made to appear more traditional.
Aluminium doors offer a high level of security, stability as well as maximum acoustic and thermal insulation properties, making them highly efficient. Triple or quadruple profile sealing systems result in excellent thermal transmittance rates as low as 0.58W/(m2k) while double-sided overlapping carbon leaf profiles ensure unparalleled rigidity unmatched by any other material.
An aluminium entrance door and its top-notch durability will continue to inspire for decades.
Wood entrance doors
Aluminium might be all the rage, however, wood remains the most popular material. For centuries, wood has been the most common entrance door material and the trend is not about to change anytime soon. Wood makes the perfect choice both for traditional as well as modern homes and emanates security, warmth and connection with nature.
Wood is an extremely durable and warm natural material, not to mention an excellent natural insulator. It can be combined with glass and aluminium to produce the desired effects or embellished with aluminium or glass details to inspire a sense of originality, or instead highlighting the wood's classic beauty by opting for traditional sidelights. What makes wood beautiful is its flexibility. It is suitable for various surface treatments, a coat of paint or can even be left untreated. Of course, wood does require more careful maintenance and care compared to aluminium. A wood door will require an occasional coat of paint. It's also recommended to protect a wood door from weather with a canopy in order to preserve its original appearance for decades. When it comes to wood doors, some dimensional restrictions apply; the maximum height of a wood entry door is 2.4 metres.
Even though they might not be as majestic as aluminium front doors, wood doors will always inspire thanks to their warmth and the sensation of homeliness they bring to the home.
Different entrance doors for different house styles
Regardless if your home is built in line with the current architectural trends or instead features a charming traditional style, your custom-made entrance door will perfectly blend into your home, elevating it to the next level because it will be specifically made to fit your house and your personality. Based on the architectural style of your house, you can choose from different door types that will complement your home: entrance doors with glass elements, double-leaf entrance doors, doors with sidelights etc. In general, entrance doors can either be elegantly traditional or boldly modern.
Custom-made entrance doors
If you want your door to seamlessly blend into the building and to match your home to the very last detail while fitted with every functionality your family might want and need, you should opt for a custom-made entrance door. This way, you'll fit your home with a door that was made specifically for you. You won't have to compromise and the door will be an inspiration in every sense of the word. It will complement your home perfectly, fulfilling its fundamental purpose: it'll perform its function day and night and serve as a source of inspiration and joy. In the morning when you are leaving your home, the door will offer a gentle goodbye and warmly greet you when you return in the afternoon. It'll inspire you with each use and instil in you the confidence that you have made the best possible choice for your home – resulting in the highest level of security, personalized functionality and uncompromising quality.
Entrance doors with glass elements
Glass is a magnificent detail that improves aesthetics and at the same time gives character to a door while introducing natural light to the entranceway. Particularly in smaller rooms or spaces without natural light, the integration of glass elements in an entrance door (aluminium or wood) is practically indispensable.
Many a person believes that including glass elements into an entrance door design will reduce the energy efficiency or security, however, the fear is completely unfounded. At Pirnar, we use triple or quadruple insulating glass which is efficient at preventing thermal losses, offers premium acoustic comfort and a high level of security.
Solid insulating glass will instil elegance and introduce natural light into your home. Of course, glass elements come in various finishes – sanded, glazed, with patterns and motifs, engraved, stained glass etc. Glass can be either clear or satin, white or dyed. The possibilities are endless, your imagination the only limit.
Glass elements can be incorporated into an entry door in various manners and designs. It can be used to create minuscule details (e.g. horizontal lines along door edges) or a large centrepiece. Glass elements come in different shapes, from rectangular and curved to round and oval, semi-circular etc. It all comes down to the style of the building, your wishes and your aesthetic preferences.
Transom and sidelight for entry doors
Glass is a vital detail for building with poor natural illumination of the entranceway as well as already bright buildings where we want to introduce even more natural light. Such solutions are particularly popular among the owners of homes and properties where the entrance door opens directly into the living area. Sidelights can be installed on either a single or both sides of the door and come in a variety of sizes. They can even be larger than the actual door! Natural light fills us with energy and gives the sensation of freedom and openness. Why not introduce it into your home through your entrance door?
Double-leaf and large entrance doors
Double-leaf and entrance doors of large dimensions are suitable for modern homes as well as classic houses as long as there is sufficient room. Double-leaf and large doors have a special effect – namely, they make spaces appear larger while at the same time introducing more natural light into rooms, making them appear more open. This will make the entranceway more organic and natural. However, in case of double-leaf doors, the entranceway should be large enough to begin with. Large front doors are more suited for homes with high ceilings with enough space around and above the door so that the door does not optically reduce the size of the room.
Of course, when it comes to above standard entrance doors and double-leaf doors, another aspect to think about is energy efficiency. It's true that such doors are potentially associated with larger energy losses, specifically in case of poor workmanship and improper selection. Pirnar's large dimension doors are characterized by the highest insulation rates currently available on the market.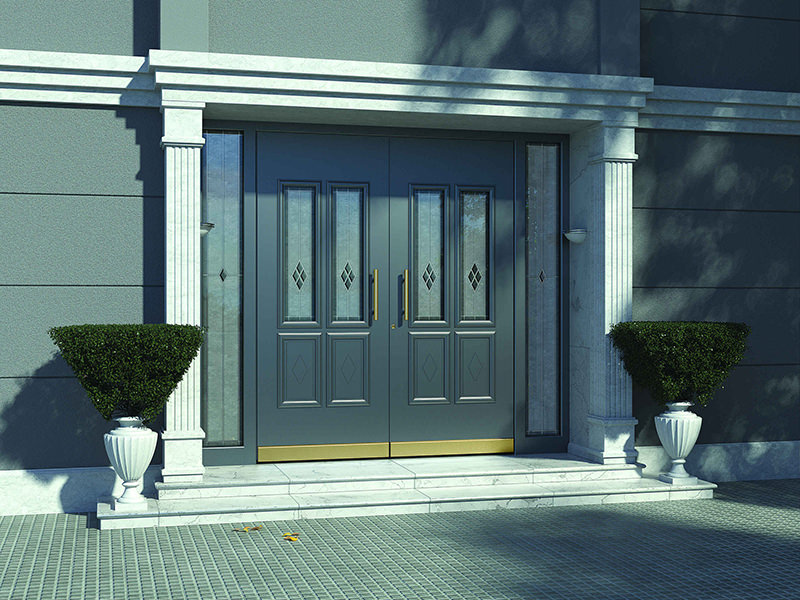 Without a doubt, large and double-leaf doors will make a lasting impression on your visitors as well as passers-by. At Pirnar, we were the first in the world to engage in the mass production of large dimension doors. You can trust us to help you select the most appropriate door that features perfect workmanship; with an impeccable installation, your door will continue to inspire for decades.
Details that bring a home together – decorative entrance elements
Of course, it's imperative to select a door that reflects your home's style as well as your personal aesthetics. But what gives your door a personal note are carefully selected details. The details that, by themselves, may not function as vital elements of your front door, but instead perfectly bring it together. The details that dot the i's. The details that are yours and yours alone.
Single or multilevel doors
The first choice you will need to take is whether you want a door that is completely level (Pure Collection) giving the appearance of a wall and which, in its purest form, blend elegantly into your home; or instead opt for the dynamics, play of shapes and 3D effect offered by a multi-level door (Multilevel Collection). Both possibilities are attractive and astounding in their own way. The first option is particularly suitable for those who swear by simple elegance and the appeal of smooth lines and the second for the bolder homeowners who want their entrance to stand out and impress.
Have you recognized yourself in either description? You're facing a number of important decisions on entrance door details that you shouldn't forget about.
Pull handles that will take your breath away
Handles are a vital element of every entrance door, even though they're often overlooked. Buyers often spend plenty of time selecting the perfect door, focusing on all aspects from the material to the surface finish, then select a simple handle with hardly any thought. A pull handle will complement your door's design, offering unlimited possibilities of design, incl. shape, material, size, colour etc. Pull handles can be the centrepiece of your entrance door. Why miss out on the opportunity to instil into your door a sense of elegance, vibrancy or technological calmness?
You can choose pull handles of various shapes and sizes – they can be large and extend from the top to the bottom of a door. Or instead, pull handles can be installed horizontally. A pull handle can be either the most prominent element of an entrance door or instead elegantly blended into the door design. Pull handles come in various shapes, from round, oval, rectangular to semi-circular – any shape imaginable. Nothing is impossible.
Glowing metal handles
Of course, handles are most often made from metal. Metal is extremely resistant to scratches and wear while being easy to maintain, not to mention the elegance in adds to an entrance door. Metal handles can be designed according to your wishes and furnished with elements in various material, from wood, glass and even illumination. In recent years, one of the most exquisite details comes in the shape of lighting decor. The handle can feature a gentle backlight or instead opt for exquisite decorative lighting integrated directly into the handle, making it look downright spectacular. The LabelLux handle can be fitted with a lighting pattern – wording of your choice, be it your family name, or a word or saying bearing special meaning.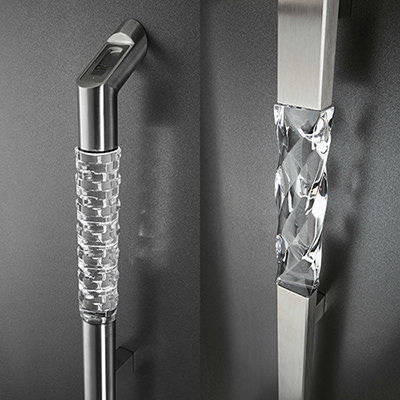 Glowing crystal glass handles
Metal pull handles can also be fitted with crystal glass details that emit an elegant glow, giving your door character. Wonderful, handcrafted glass patterns will amaze your visitors while making entering your home a true adventure. Ask for CristalLux pull handles.
Automatic handles
If you are partial to smooth lines and want a single-level door, there's no reason for a protruding handle to tarnish the elegant look. Pirnar is the first producer in the world to have developed an automatic pull-out/pull-in handle (OneTouch) that blends into the entrance door. It is completely invisible from a distance and impossible to use to everybody except the owners. That's because the door is fingerprint-activated. When the owner touches the finger to the concealed fingerprint reader, the handle automatically extends, then retracts back into the door after entering the home. Fingerprint locking is one of the safest locking systems and restricts any handle manipulation thanks to its design. Elegant, simple and modern.
Indispensable lighting
The illumination of the entire entrance or individual part is an indispensable element which plays not only an aesthetic role, but also improves security. With entrance lights, it will be easier to locate the lock or fingerprint reader while the security of your home will be increased, making entering and exiting in the evening and morning more comfortable. Opt for complete entrance LED lighting, elegant handle illumination, doorstep illumination, spotlighting or focused lighting elements.
Selecting the correct entrance door colour
Selecting an entrance door colour comes down primarily to your home's style as well as the facade paint. Vivid and colourful facades usually require doors of simpler colours or combinations in one or two colours while single-shade and plain facade tones allow for more vibrant, multi-coloured doors, patterns etc.
When selecting a colour for your entry door, think particularly of your favourite colours and the general style of your home instead of current trends. Trends pass which might lead you to regret your selection just because a certain bold colour was trendy at the time. The design you choose will last for decades. So if you aren't bold by nature, opt for classic colours like black, white, steel blue, grey, brown or any natural wood shade you prefer.
State-of-the-art entrance door accessories
Your entrance door should not only feature perfect aesthetics and workmanship, but also high-tech accessories. With modern technology, you can transform your entrance door into a custom-made smart entrance adapted to your every need. The biggest technological revolution in entrance doors occurred in the field of locking systems and locks. Smart locking systems based on security codes, smart cards or chips, biometric fingerprint locking and even facial recognition systems are becoming more and more common.
In the field of smart technology, Pirnar is without a doubt the leading entrance door manufacturer. We were the first entrance door producer to develop an automatic retractable handle system and concealed fingerprint reader (Pirnar OneTouch) as well as the most advanced touchless automatic entrance wall with a facial recognition locking system (Pirnar Theatrica).
An image of a Pirnar entrance is bound to inspire. But you can't even begin to imagine the hidden surprises when touched in person. Visit one of our showrooms!
Specifications to consider when selecting an entrance door
By now, you must already have an idea about the functionalities you want in your entrance door and have visualized your selection. Before you make the final decision, you should be familiar with the technical specifications that affect your selection and separate top quality from average doors.
Entrance door safety
The main function of an entrance door is to provide absolute protection from environmental impacts as well as uninvited guests. Security is the key characteristic of every entrance door. That's why it's important for both the hinges and the locking system to provide burglary protection. In this sense, profile thickness and composition plays an important role. Double overlapping profiles combined with carbon fibres offer unparalleled rigidity that inspires confidence in burglary resistance of your entrance door.
Another important security aspect is also the locking method. In case of losing the electronic locking system medium, the access medium can simply be reprogrammed, making replacing the lock absolute. On the other hand, fingerprint or facial recognition locking systems completely eliminate the possibility of any kind of lock manipulation, offering the highest level of security currently available in the market.
Importance of thermal insulation
Alongside burglary protection, a quality entrance door should also protect from weather, i.e. cold and heat. With proper thermal insulation, providing for the thermal comfort and minimizing thermal losses will be a cinch, resulting also in a lower heating bill. The thermal transmittance rate (Ud) denotes a door's thermal insulation capacity. The recommended thermal transmittance rates of quality entrance door range between Ud = 0.58W/m2 and Ud = 1.3W/m2 (the lower the value, the better a door's thermal insulation).
Pirnar entrance doors feature the best possible thermal insulation with thermal transmittance rates as low as Ud = 0.58W/m2.
Acoustic insulation of entrance doors
When it comes to comfort of living, another thing to consider is acoustic insulation. Your home is your haven, your escape from the world. An entrance door's job is to protect you from noise and the bustle of the outside. A quality entrance door mutes out outside noise and provides for unparalleled comfort.
Getting ready to install your entrance door
Quality entrance door installation plays a crucial role in the sense functionality and life span. If you want to continue using your entrance door for decades and at the same time provide for the best possible acoustic and thermal insulation, prevent sagging and snagging, and preserve its original condition for decades, let professionals handle the installation. Only professionally installed doors will function flawlessly.
The professional installation of an entrance door is made up of six steps:
Preparation and measurement of the rough opening before entrance door installation
Insertion of jamb into rough opening
Shim the jamb
Anchor the jamb into rough opening
Insulate the door construction
Finishing (trim installation, painting)
To ensure the proper functioning of professionally installed entrance doors and maximize their life span, regular maintenance is also required.
Maintaining an entrance door
Because an entrance is exposed to a number of external factors, including weather and temperature deviations, industrial gasses, dusts, grime and dirt, it must be cared for and maintained. The required care and maintenance comes down to the material of the entrance door.
A wood door requires quite a bit of care and maintenance. It must be protected from sun and moisture (a canopy works best) and occasionally, a fresh coat of paint or lacquer should be applied. Regular maintenance (using special wood cleaners or a mixture of a small amount of washing up liquid and water) will help you keep your door nice and clean for years after installation.
Aluminium doors require less care and maintenance, i.e. they only need to be cleaned (using a mild, pH-neutral or alkaline cleaners) twice per year.
Glass surfaces can be cleaned with a glass cleaner while making sure to prevent any contact of wood and aluminium surfaces with the cleaner.
Clean your entrance door in the autumn or spring at moderate temperatures below 25 degrees Celsius. Regardless of the entrance door material, after cleaning, always wipe down the door with a soft, non-abrasive cloth.
An image of a Pirnar entrance is bound to inspire. But you can't even begin to imagine the hidden surprises when touched in person. Visit one of our showrooms!
Glossary of entrance door terms
A
Aluminium door – An aluminium entrance door
Aluminium entrance doors – Entrance doors made from aluminium or a combination of aluminium with other materials
B
Biometric locking system – Locking system featuring fingerprint or facial recognition system
C
CristalLux – Glowing glass pull handle
D
Double-leaf door – A door with two door leaves
Door leaf – The main part of a door installed on hinges

Doorsill – The contact point of entrance door and floor made from a solid, durable material, vital in providing for acoustic and thermal insulationa
E
Electronic lock – Locking system featuring an electronic mechanism unlocked via electronic medium or biometric system

Entrance door – The main door that forms the boundary between your home and the outside
F
Facial recognition system – Laser unlocking facial recognition system that can identify 30,000 facial features

Fingerprint reader – The mechanism that uses the owner's fingerprint as the access key
H
Hinges – Hardware, door hinges
J
Jamb – Doorframe
L
LED lighting – Lighting system consisting of light emitting diodes

Lock – Classic locking system
M
MagmaLux – Glowing metal handle
O
OneTouch – Automatic retractable handle and concealed fingerprint reader system
P
Pull handle – Handle, element used to open doors
S
Solid wood door – Thick door constructed from a single solid piece of wood or laminated timber incl. anti-burglary core

Sidelight – Side glass element that introduces natural light
T
Thermal transmittance rate (U) – The value denoting a door's thermal insulation efficiency (the lower the value, the better the thermal insulation)
Theatrica – Touchless entrance wall featuring a facial recognition system
U
U-rate – Thermal transmittance rate
W
Wood entrance doors – Entrance doors made from wood or a combination of wood with other materials
---
---
Catalogues
Download catalogues for the latest and most innovative Pirnar entrances. Browse them together with your loved ones.