Selecting the most suitable entrance door colour
Select the colour for your entrance door that reflects your unique personality. It's time to invigorate your home with an entry door that will turn heads.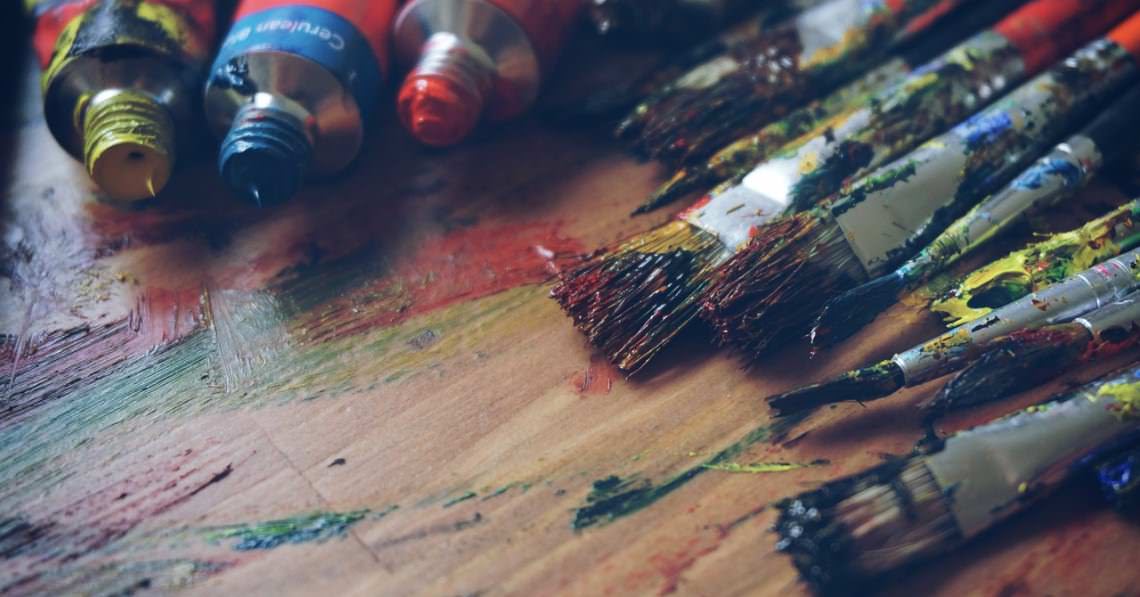 When furnishing your home, did you forget to decide on the colour of your entry door?
Renovation and decoration bring a myriad of decision. Don't wait to decide about the colours that make up your home's exterior until the last moment.
Continue reading to find out which colours match your facade best, how to create unforgettable colour combinations and the most common mistakes when selecting an entry door colour. If you're planning on selling your house, our summary of colour trends can help you persuade your potential buyers with the help of the most popular colours.
Common mistakes when selecting an entry door colour
The selection of an entry door colour comes down to a number of external factors, e.g. style of architecture of the building and facade colour. What needs to be considered is the entrance structure as well as the colours of other doors and windows.
When making your decision, don't forget about your character and the message you're trying to convey. Just like when it comes to other aspects of home decoration, the selection of colours is the opportunity to communicate your character. Dare to be different and tell the world your unique life story.
Think carefully about the colours and don't make your final decision overnight. Make your choice count; you should thoroughly think about the colours already from the get-go instead of waiting to finish up the rest of the work.
Make sure you don't commit the following common mistakes:
SELECT THE COLOUR IN IMPROPER LIGHTING. During your visit to the paint store, you might have eagerly selected the paint that you found perfect for your entry door. But you failed to take into account that fluorescent lighting often paints an unrealistic picture. Or perhaps, you only looked at the paint colour via your computer or smartphone screen, and not in person.
This can result in an unwanted surprise, when the selected colour appears almost unrecognizable in daylight. So don't forget to always be particularly careful when selecting an entry door colour, and consider the lighting! At Pirnar showrooms, we exhibit realistic entry door colours to facilitate your planning.
FAIL TO CONSIDER THE HOUSE'S EXTERNAL COLOUR PALETTE. When it comes to selecting the furniture and colours inside a house, considering the space as a whole comes naturally. Will the kitchen furniture match the dining table, chairs and flooring? Will the sofa complement the rest of the elements in the living area?
However, it is kind of surprising that, when it comes to a house's external elements, we tend to become too eager and completely forget about deciding for a comprehensive colour palette. Deciding on a colour scheme isn't only important for indoor spaces; it's also vital when it comes to selecting an entry door. Before finalizing your decision on the best entry door colour, don't forget to take into account the rest of the elements in the house, such as the facade, windows, roller blinds, external furniture outside the entrance etc.
FAIL TO CONSIDER THE HOUSE'S SURROUNDINGS. If you're daring by nature and want to stand out from the crowd, you might want to neglect your neighbours' preferences on colours. However, if you want your home to blend in, it's recommended to think of your street or neighbourhood as a whole.
How will your choice impact the harmony of colours in your street and which colours to avoid? Comparing the different colours of the doors of your next door neighbours is an excellent way to establish which entry door colours you're drawn to the most.
SELECT A COLOUR THAT DOESN'T STIR YOUR FEELINGS. The final but equally important error refers to the emotional value of colours. When returning home after a long day at work, the colour of your entry door should invoke in you a feeling of welcome, love and comfort. When you're admiring your home's entrance, the colour you select should be both inviting to visitors while at the same time arousing in you a sensation of pride.
Breath-taking facade and entrance door combinations
WHITE FACADE
The classic white facade offers the most possibilities when selecting the colour of your entry door. Combined with black or dark grey, white feels fresh and modern, as is characteristic for the most prestigious houses of the 21st century.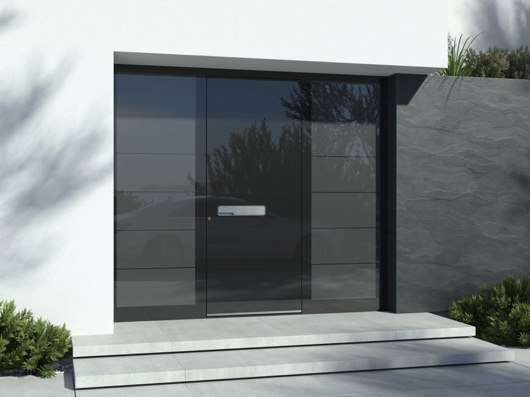 If you opt for a combination of black doors and a white facade, you don't have to maintain the monochromatic appearance, though. You can make the surroundings more vibrant by including flowers and shrubbery. The colour palette can be further extended by incorporating different shades of grey as shown in the photo above. With stairs in gentle grey and darker walls on the right, you can break down the monotony and create a sense of power and warmth. You can further augment your entrance by using accessories such as yard lighting to bring out the best from your entrance door.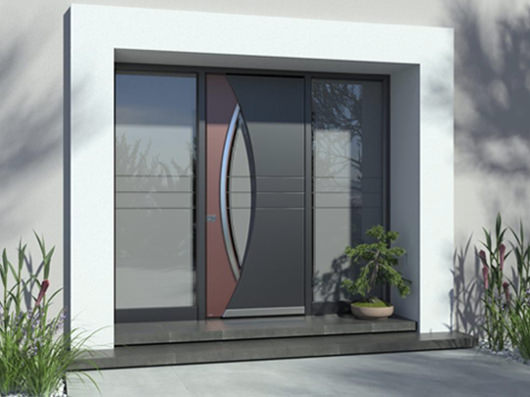 A white facade is the perfect foundation for even the most daring entry door colour. The perfect example are Ultimum multilevel aluminium doors that are simply – for lack of a better word – unique. They are the perfect door for those who dare to stand out of the crowd. They're composed of a lense-like window and the elegant combination of two differently coloured arches. Rest assured that such an entrance will make a lasting impression on absolutely every visitor!
GREY FACADE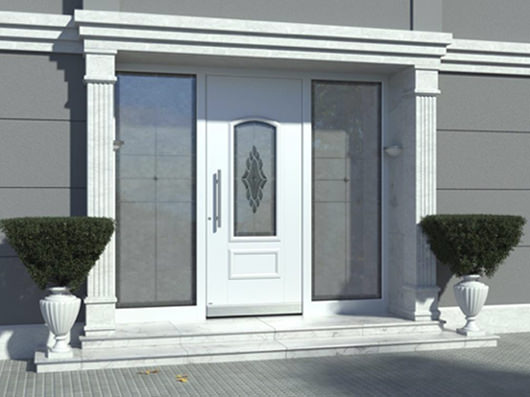 A large grey surface is perfect for the installation of a snow-white door. Already at a distance, this combination will appear prestigious and unique. Framed stained glass and marble steps also perfectly complement a grey facade. An entrance like this is certain to make a lasting first impression.
Since we're talking trends, we mustn't forget the increasingly popular natural materials. A wood door, e.g. Ultimum-pure, is a combination of tradition and modern design; a celebration of the omnipotence of nature. This solid wood door can be combined with a number of different facade shades.
Are you intending to sell your house?
It is the main entrance that potential buyers will use to enter your home. That's why it's not surprising that, for a lasting first impression, a well-kept entrance is key.
Did you know that the entry door's colour will affect the attractiveness of your building in the eyes of potential buyers?
A recent study by the British Country Life magazine concluded with the help of a number of Europe's most experienced real estate agents focused on the impact of the entry door colour.
Which entry door colours are the most effective?
The classic blue: Different shades of blue are as popular as they are traditional. If you decide for blue, you really cannot go wrong. Blue is a relatively conservative choice, though available in a myriad of shades. Carefully decide on the tone. Real estate experts point out that darker shades of blue will sell better in urban environments; however, in smaller settlements and by the sea, brighter, pastel shades will usually do the trick.
Timeless elegance in black: Another classic that won't disappoint. Particularly in urban environments, a black-coloured entrance is associated with elegance, power, quality and social status. If you've decided for a black entry door, you can employ other elements to breathe some life into your home. Another advantage that black offers is that it blends into basically every facade shade.
Daring is popular: In urban environments, daring colours are often popular since they make homes stand out of the crowd. They're trendy, youthful and not uncommon on the most famous streets in the world – for example, Portobello Road in London. Kasia Wiktorowicz, a colour expert at Valspar, global paint producer, agrees that bold colours are becoming increasingly popular. She claims that, when it comes to the entry door colour, courage and playfulness are more than welcome because an entry door can make a lasting first impression.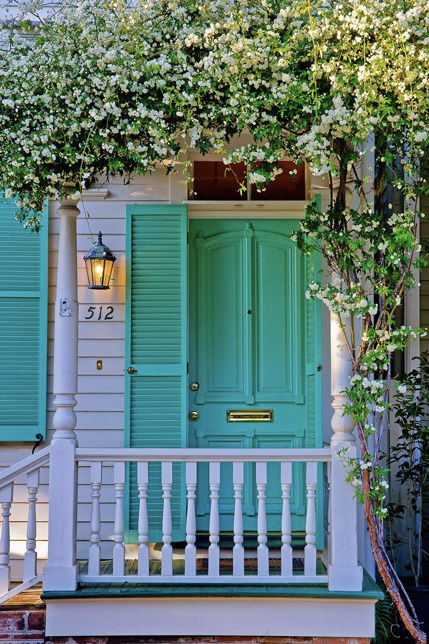 Source: Good Housekeeping
Don't forget – your house's exterior is an important factor to consider when buying a home. In the eyes of potential buyers, exterior elements can often tip the scales.
At Pirnar, we regularly point out the importance of not only a well-kept, but also fashionable, even luxurious exterior of a house. Our premium entrance doors have been shown to increase the value of your house thanks to their artisanry, making a lasting first impression.
Uniqueness always hits the spot
And don't forget - dare to be different. You might have already heard of the saying that rules are meant to be broken. With an entry door, you can communicate to the outside world how unique you are. The rules listed above are excellent starting points, but may not be the best solutions for every home. There's always an exception to the rule; bold elements transcend time while their unusual nature can outline future trends.
Help! I'm still note sure which entrance door colour to choose!
Are you still uncertain or afraid that you'll later regret your decision? Perhaps, you might not be fond of colour combinations, or instead find harmonies of colour unusual?
Don't fret – visit a Pirnar showroom and let experts help you make the correct decision. You'll be provided the most up-to-date information on colour trends as well as personalized tips on each unique case. Visit us at the showroom and don't forget to bring photographs of your home's exterior. This will make the decision-making process much easier as you will be able to compare your home against various colours and models. At our showroom, 60 of our most popular entry door models that are certain to amaze you are displayed. Also displayed are different state-of-the-art optional accessories, such as touchless entry doors, unobtrusive and automatic door lighting and doorplates laser engraved with a personal message.
Visit Pirnar showrooms in London (Fleming Way, Isleworth), Luton (Union Street) or Birmingham (Stratford Road).
---
---
Catalogues
Download catalogues for the latest and most innovative Pirnar entrances. Browse them together with your loved ones.