The most important factors to consider when selecting an entry door
Before making a final decision, be sure to know all the decisive factors that should be taken into consideration when purchasing and installing new front doors. We prepared a short guide.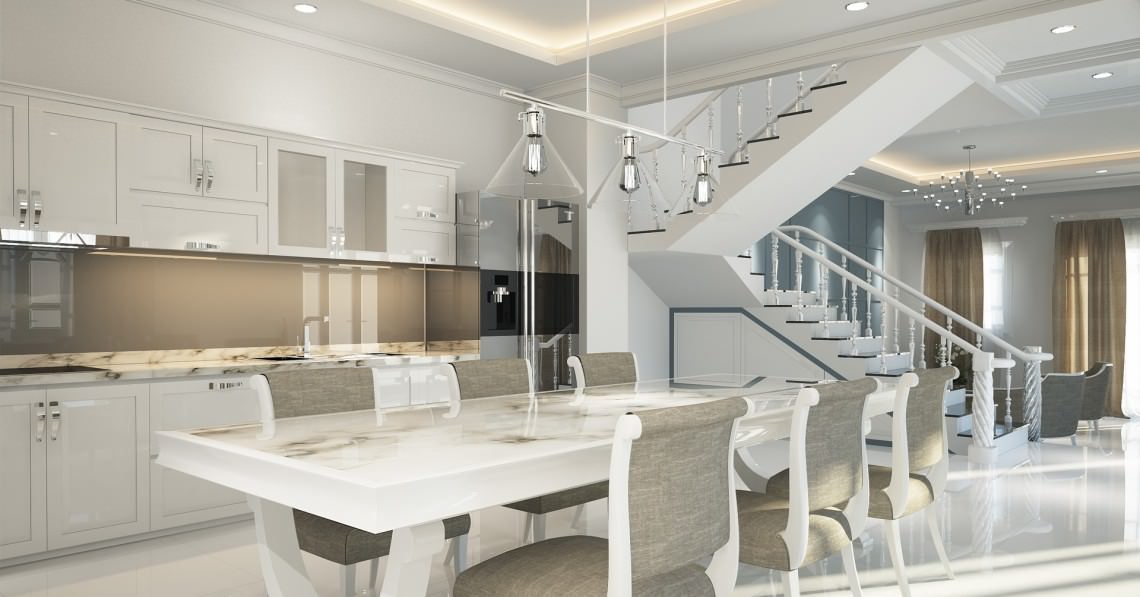 When opting for a new entry door for your home, the selection of the different types of products, manufacturers and suppliers can make your head spin. You might already have an idea of what type of entry door you're after, but still haven't a clue about the possibilities, let alone prices. While others might have a clear idea of what kind of entry door they want and where to find one. In any case, before making the final decision, you should consider all of the key factors important when buying and installing a new entry door.
Different entry doors for different tastes
When choosing a new front entrance for your home, you have to first decide whether you want a custom-made or an out-of-the-box type door. The latter may be considerably cheaper, but what you pay for is what you get – a cookie-cutter type of entry door that might not satisfy all of your needs and certainly won't impress anyone. You'll have to choose from a limited number of designs while the materials used will be of average quality at best. Such materials won't provide the best insulation and will, in time, make you bleed money that you could have saved by opting for a higher quality door. The lifespan of such doors is considerably shorter since the materials used are not of the best quality and usually don't come with a long warranty. Conventional out-of-the-box doors don't include cutting-edge technology and personalization options. There's no room for expressing yourself with such doors.
An exceptionally designed, highly-functional and technologically advanced door cannot be found at your local building supply or furniture store. If this is what you're after, only custom-made entry doors will satisfy your expectations.
When choosing your manufacturer, select a company with decades of experience that isn't afraid of innovation and progress. Look for customer recommendations, references and awards for outstanding design and innovation. Make sure that the manufacturer can supply the absolute best materials and workmanship and at the same time consider your personal wishes, ideas and vision. The absolute best part of buying a custom-made door is the fact that you aren't limited by anything but your imagination. Find a manufacturer that can make your dreams reality.
The advantages of a custom-made entry door
A custom-made entrance is more than a door. Made-to-order entrances are meticulously designed and crafted, highlighting the fundamental aesthetic elements of your house while at the same time reflecting your personal tastes and aesthetic preferences while offering the maximum degree of comfort, security and ease of use.
This means that a custom-made entrance is adjusted to your habits, daily routine and wishes, from its comprehensive design to the minuscule functionalities, material selection to locking system and lighting. A custom-made entrance is yours and yours alone; it reflects your personality and adapts to your life style. It can be large and elegant, a sight to behold, or instead offer maximum functionality and be suited for families. With the assistance of experienced artisans who design and construct custom-made doors, you can select all of the elements in your entry door that you consider important, trust them with your most unusual wishes and design the entrance of your dream.
Entry doors, the personalized element of your house
Perhaps you haven't thought of it in this sense, but just as a house reflects the personalities and styles of those living inside, the entrance is a statement about the home's character. A door makes a first impression on the visitors entering your home. Think about what message you want the door to communicate and the first impression you want to make.
Do you want to astound at the first sight of your unique grand entrance? Or would you prefer to slowly build up admiration for your discreetly simple, yet elegant entry door that offers much more than evident at first glance?
Your personal preference about whether you want a striking entrance that captures the attention at first sight or a more discreet and simple design that complements the uniqueness of your home should be the starting point in your search for the perfect door. Next, find someone who can design the door of your dreams, a magnificent masterpiece, beautifully and meticulously crafted, with highest attention to detail.
Accessories dot the i's of the entrance
Entry door accessories are what makes your entrance stand out from the crowd, give it character and add an element of inspiration to something as mundane as an entry door. The term accessory, however, doesn't mean large and flashy adornments, but instead subtle, elegant details that inspire through sophistication.
An accessory can even be constructed from the proper selection and combination of materials – a design that stands out. This might include elements in various planes, extraordinary hemispherical components in the centre of the door, refined glass parts, embossed door surface finish etc. Or instead meticulously selected accessories and functionalities that complement the appearance of your entry door: a crystal glass handle, illuminated handle inscription, gentle LED lighting around the entire entrance, smart locking mechanisms... All of these details give your door character.
Selecting the most suitable material for your door
The next important decision is selecting the most suitable material for your entry door. While making the decision, consider the style of your home. Is your house traditional or are you building a modern home? Through advanced technology and surface finishes, a modern appearance can be achieved regardless of the material you select. However, when it comes to traditional houses, a wooden entry door remains the best choice.
The most popular choice for traditional homes are still wood entry doors that convey the sense of warmth and comfort, signalling the love for natural materials. Wood is a precious natural material available in limitless surface finishes, colours and combinations with other materials like glass, aluminium and stainless steel. Compared to aluminium, however, it's not as weather resistant. So when opting for a wood entry door, it's recommended to also install a canopy to make certain that the door will retain its shape, colour and structure. Of course, wood requires care and maintenance; your effort will be rewarded with its wonderful appearance and unparalleled textures that only natural wood can have.
However, aluminium doors can be designed to look traditional, as well. Even though, at first glance, aluminium is extremely elegant and modern, by selecting an appropriate design and surface finish it may appears more traditional, making it a suitable choice for every traditional home. Aluminium can also be combined with wood and glass, making possibilities practically limitless. The basic advantage of aluminium is its versatility, excellent structural integrity and the best resistance to external impacts, resistance to deformation, i.e. weather, and static stability that guarantees perfect functionality even in large format doors (from 2,300mm up 2,700mm height and up to 1,260mm width). Compared to wood, aluminium requires practically no maintenance – to preserve its original appearance, all it needs is an occasional wiping, nothing more. To the touch, it's colder than wood, however, since it retains its original appearance for years or even decades, it is becoming an increasingly popular choice for modern homes.
It's all in the details that make a door look either traditional or modern, as well as the actual design, and not actually the material. It is imperative that the door design matches the general style of the building; the rest comes down to your imagination. Regardless of your home's appearance, you can choose between wood and aluminium or opt for a combination of both in different colours and surface treatments, a combination with glass and various details, from lighting to illuminated door handles and knockers, crystal glass handles, illuminated sills and LED illuminated entrances.
Essential characteristics and advantages of materials:
| | | |
| --- | --- | --- |
| | WOOD | ALUMINIUM |
| APPEARANCE AND FEEL | Firm, warm and natural | Firm and smooth, modern and elegant |
| DOOR STYLE | Traditional and modern houses | Traditional and modern houses |
| SURFACE FINISH | All types of surface finishes | All types of surface finishes |
| MATERIAL COMBINATIONS | Glass, stainless steel and aluminium | Glass, wood and stainless steel |
| INSULATION PROPERTIES | A great natural insulator, high energy efficiency | Not a good natural insulator, however, can exhibit excellent thermal efficiency if treated (glazed) correctly |
| COLOURS | Comes in any natural wood colour and combination. Wooden doors may require an occasional coat of paint | Available in a range of colours, from various shades of grey, red, blue, green, brown, beige, white, black and combinations, either in matte, metallic or structured paint. Does not discolour |
| SIZE | Maximum height 2.4 metres | Available in any size |
| AVAILABLE TECHNOLOGIES | Can be installed with concealed handles, LED lighting, illuminated handles, crystals, code keyboard, fingerprint reader or facial recognition system | Can be installed with concealed handles, LED lighting, illuminated handles, crystals, code keyboard, fingerprint reader or facial recognition system |
| DURABILITY & LONGEVITY | Long lasting, though if not maintained properly, wood doors can have a shorter lifespan | The strongest available material, extremely durable, with a long lifespan |
| MAINTENACE | Mandates regular maintenance, occasional repairs and resealing | Almost maintenance-free |
| SUSTAINABILITY | Natural and environmentally friendly | Aluminium is infinitely recyclable |
| COST | Same as aluminium, but may be more expensive to maintain | Same as wood |
Now all that is left is to decide whether you prefer the strong, warm textures of wood or the solid elegance of aluminium. Both materials have their pros and cons, however, it is usually up to personal preference, desired look and cost efficiency (both in the sense of the initial investment and maintenance).
Before selecting the material, you should consider the size and design. Are you looking for a smaller or a grandiose entrance? Single or double-leaf door? A single-layer, one-piece door or an elegant and bright door, with multilayered glass details and windows that give you the freedom to play with astonishing structures and patterns? There are limitless possibilities of how to incorporate glass, wood, aluminium and other materials into your door. Which colour best matches your home's style? Do you want your door to stand out or would you perhaps prefer to complement the unique style of your home in a more subtle and non-intrusive way?
At this point, you might already have an idea of what type of general appearance your door should have.
Don't compromise on quality, execution and security
Buying a front door is a big deal not just because it's a substantial investment, but because you'll have to live with your decision for years. Remember that you're not just buying a piece of furniture that you're be able to throw away or replace in a couple of years if you're unhappy with your choice. Properly selected entry doors will last decades, so make your purchase count.
You might be tempted to buy a conventional reinforced entry door. But can such a door really offer everything that you are after? Does it feature an attractive design while remaining functional? Does a six-point locking system really offer the required security? Alternatively, will you have to consider another investment into lighting or a security system to get your hands on everything you need?
Think carefully about what you expect of your entry door both in the sense of functionality as well as security and don't compromise when it comes to the most important aspects just to save a buck. In your home, you should feel completely safe. Your door should provide maximum thermal insulation and comfort while looking spectacular. It should be functional and make it easy for you to enter and leave, be it day or night. As a result, a door might include additional lighting, perhaps an electronic locking system (i.e. password or fingerprint-operated system or even facial recognition), multilevel design, concealed handles etc.
Choose between various models of prestigious hand-made entry doors from different price brackets; finding one that is a perfect fit for your home shouldn't be too much of a problem.
Explore new technologies
You are buying a door that you will continue using for decades, so it makes sense to look into new and modern technologies currently available to you. Since technology advances quickly, you should think about selecting the most advanced door so that it won't become obsolete overnight. If you decide for a traditional door with hardly any technology, you might feel the urge to install it in the future, resulting in additional work and expenses later on.
Try planning your needs ahead of time. Will automatic LED lighting come in handy on a day-to-day basis (if not now, maybe in a few years?), will it make you feel safer and is it a sensible choice to complement your security system? Are you going to become frustrated in a decade when your neighbours start locking their doors via fingerprint technology while you're still searching for your keys? Or are you an innovation enthusiast and will opt for the absolute latest technology complete with a facial recognition locking system? What about security – would you feel safer knowing that only your fingerprint or face opens your door rather than, if you lose your keys, the entire lock has to be replaced?
Don't forget that an entry door is an investment into the future. The more you invest now, the more it will pay off not only in terms of your everyday life and satisfaction, but also if you ever decide to sell your home. A technologically advanced, uniquely designed, handmade door will tremendously increase the value of your home.
Cutting-edge innovation in the field of entry door security and functionality
Using keys to unlock your entry door is slowly becoming a thing of the past since most buyers of new entry doors instead opt for modern entry door control systems enabling keyless locking and unlocking. Electronic locks are user friendly and have a longer life span (no wear of mechanical parts), enable improved control over who and when can unlock doors while at the same time, losing the locking device (i.e. electronic key, either a smartphone, card, chip or bracelet) does not require the entire lock to be replaced, but instead simply reprogrammed.
Electronic locks can be unlocked by entering a code or using a card, chip or smartphone. In recent years, biometric locking systems – i.e. fingerprint locking, considered one of the most secure systems – have soared in popularity. You fingerprint is completely unique. It cannot be copied or forged, making misuse of such a system practically impossible.
Pirnar OneTouch is the upgrade to the classic biometric fingerprint locking system and features, alongside the fingerprint reader, an additional safety mechanism – a concealed handle. Entering without using the handle is impossible and the handle will only become revealed after you have touched the hidden sensor with your fingertip. Once the owner is recognized by the system, the handle automatically extends, making entry possible. Pirnar has been awarded a number of international awards for this unique innovation with a high added value.
Doors featuring fingerprint locking can be further upgraded with a completely touchless system. Pirnar Theatrica is the newest global innovation combining a series of functionalities, making it more than a simple entry door. Theatrica is a massive entrance wall – a large, sophisticated and completely flat surface that is level with your home and doesn't even appear a door at first glance. There are no hinges – instead, it simply retracts into the neighbouring wall. This large sliding door also features a handle-free design and opens completely automatically with the help of the most modern facial recognition technology in the world. The technology that recognizes 30,000 individual facial features in only seconds developed for police and military is now available for personal use and ensures the highest possible level of security. There is no door more secure and safe from manipulation than Theatrica. This prestigious innovation marks the revolution of how we use entry doors. A series of international awards and prizes prove that Theatrica is the entrance for the future.
Don't buy a pretty picture
The texture of the materials, the breath-taking design and captivating details... Seeing and touching the model that's captivated you at a salon is one of the most important aspects of buying a front door. A photo of the model you are inspired by might be worth a thousand words, but it cannot tell what hands can feel. The amazing workmanship, the breath-taking details, the feel of your hand touching the sleek surfaces, the curves and the elegant edges, all of this can only be felt and experienced with all of your senses. Only in person can you experience the same feeling of absolute admiration that your guests will feel stepping on your doorstep.
Visit a showroom and feel everything that a picture cannot capture.
Opt for a manufacturer you can trust with even your wildest ideas
We've guided you through a number of very important decisions, but ultimately what's most important is choosing the right manufacturer. Someone who understands your needs and wishes and isn't afraid of a challenge. Someone who will listen to your needs and dazzle you with a solution you couldn't have imagined even in your wildest dreams. An artisan who can make into reality what cannot be expressed in words. Someone to create for you an entry door that you will be proud of and admire for decades.
Pirnar is known across the world for being an unstoppable force of innovation and creativity. No matter how unusual or even impossible your wishes and ideas may seem, our daring artisans don't believe in impossible. They'll help you build an entrance that will be as unique as you. Limitations are only there for us to prove that they can be overcome, and the only limit is the imagination. We don't build doors, we create masterpieces.
Our luxury doors come in three ranges, each capturing a different personal aesthetics and offering diverse design options and pricing brackets. Any door from any collection can be customized and upgraded to your liking. The three ranges are:
PIRNAR ULTIMUM
Pirnar Ultimum doors are made for the most demanding customer. They are the most technologically advanced and meticulously designed doors available on the market. Discover our most innovative and renowned doors, such as Pirnar OneTouch with a highly rewarded one-touch fingerprint locking system or our newest, most exclusive innovation, Pirnar Theatrica, featuring touchless, handless opening, operated by a revolutionary facial recognition system. This collection features our most sophisticated multilevel, multi-layer designs, dynamic surface finish, high quality and the most technologically advanced materials available in the market, elegant contours and an unbeatable thermal transmittance rate 0.54W/m2K.
PIRNAR PREMIUM
Pirnar Premium are high-end luxury doors featuring exceptional shapes and flawless workmanship – doors that will become the centrepiece of your home. They are distinguished by amazing stability and remarkable design that promise decades of use and satisfaction. Thanks to a thermal transmittance rate of only 0.61W/m2K, these doors are an ideal choice for energy-efficient homes.
PIRNAR OPTIMUM
The Pirnar Optimum collection features excellent and sophisticated but affordable entry doors that constitute a well thought out solution for every home. We are proud of their excellent production quality, flawless construction, high quality of materials and exceptional insulation with a thermal transmittance rate of 0.65W/m2K.
We invest the same level of dedication and precision into all of our products. Pirnar's artisans are known for having a meticulous eye for detail and construct flawless, elegant and captivating luxury doors. Our unique and innovative designs have gained international recognition and received numerous awards for innovation. We offer technologies that no other company in the world has even developed. We are one of a kind and your entrance will be, as well. Amazing. Audacious. Adamant. Uncompromising quality.
---
---
Catalogues
Download catalogues for the latest and most innovative Pirnar entrances. Browse them together with your loved ones.