When is the time to replace your front door?
We all know how important a good first impression is, this also applies to the image of the front doors. If your door is damaged, is difficult to close, or lets in the wind, it may be time to replace it.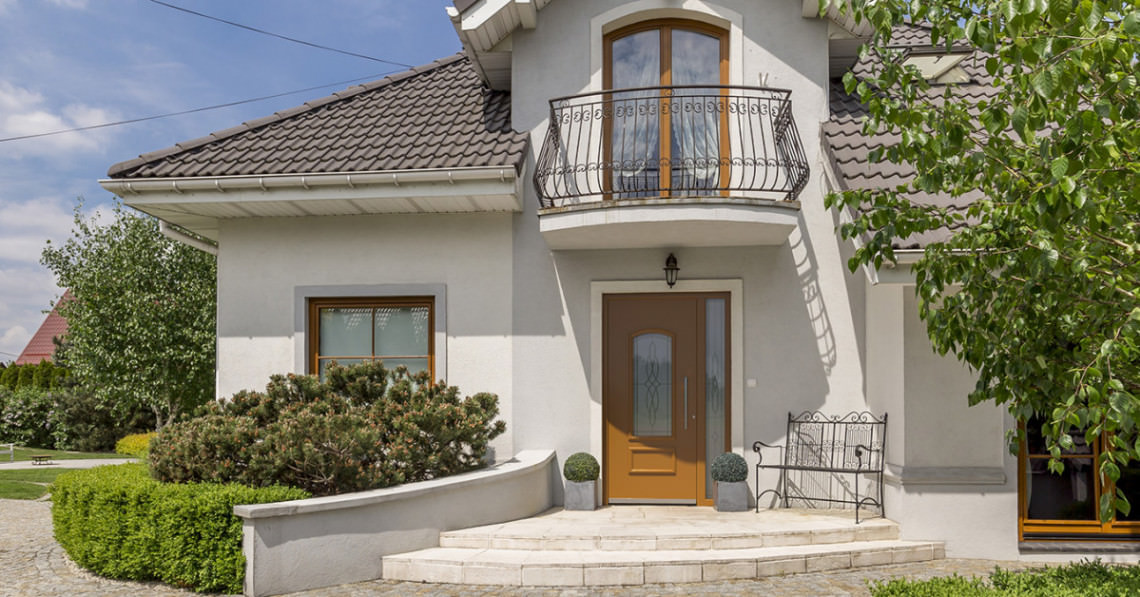 We all know how important a good first impression is. This applies not only to a first date or a job interview, but is also an important guideline for planning and remodelling your home. While the attractiveness of your entrance depends on many factors such as landscaping, illumination, and lawn and garden care, the front doors are the focal point of the facade and contribute to developing your architectural style. Front doors also have essential everyday functions, such as resisting external weather influences and intruders. Despite their importance, we rarely think about our exterior doors. Maybe it's time to start paying more attention to them.
Properly maintained quality doors can last for decades
This is a true statement, but there comes a time when it makes more sense to replace them than to fix them. If you are trying to determine if it is time for new front doors or not, take a close look at your current front doors and ask yourself the following questions:
Are your front doors scratched or dirty?
Are there cracks or fractures along the edges of the door or on the door leaf?
Does wind come through the door seals?
Have you encountered problems when mounting the doors on the hinges?
Is it difficult to close and lock the front doors?
If you answered yes to any of the above questions, it may be wise to consider replacing your front door. Think not only about the problems that exist with your current front door, but also about the benefits you will gain from the replacement - improved appearance, better energy efficiency, greater security, ease of locking and unlocking, and much more. Research shows that you will most likely recoup the cost of replacing front doors, as new ones will be more energy efficient, which will contribute to lower heating costs. According to a 2014 report by Remodeling magazine, which conducted a survey among costs versus replacement value, front door replacement ranks among the most cost-effective home upgrades, recouping more than 95% of the investment.
Of course, the decision to replace the front doors is not the only choice. The front doors for a house vary in size, architectural style and various accessories. They also differ in material and for many homeowners the decision to be made between wood, aluminium and glass is often the most demanding part of the process. The choice depends on your budget and weighing the pros and cons of each material. Here are some things you need to know:
Wooden front doors are very pleasant and inviting to the eyes, but are generally more traditional, as they often include rich details and decorative inserts. They are usually found in Victorian and colonial architecture, as they look rich and antique. But times have changed. Now you can also choose modern wooden front doors with a wide range of finishes and clean modern lines that will work great in your modern home as well.
Aluminium front doors are significantly more popular than wooden ones, but equally attractive to homeowners due to their easy maintenance. While the wooden front door conjures up a sense of nature, the aluminium front doors are also quite durable as they are resistant to cracks, rot and rust. You can think of them coming in virtually unlimited shapes, which means that no matter what kind of house you live in, you can completely adapt the aluminium front doors to your style. Of course, the aluminium front doors here are also covered with glass for an even more luxurious and unique look.
Concerned about safety?
If security is the main thing you want, aluminium front doors are the right choice for you that will not only keep away intruders, but also reduce the deterioration of the door itself and lessen the moisture. We often forget that most aluminium doors contain an insulating foam core, which means that they are extremely energy efficient. Aluminium doors can be finished with any exterior color in the RAL scale that will best complement the exterior of your home. For a more traditional look you can choose from a number of wooden decors.
Last details
Once you have chosen the perfect material for your new front door, there are many ways you can customise it and give it your personal touch. For example, there are different options for incorporating glass panels and the installation of personalised handles with different LED illuminations and inscriptions. There are also countless styles and patterns available to brighten up the look of your entrance and make it even more attractive. If you're still not sure what you want, take a look at the extensive collection of all the different Pirnar front doors.
Make sure that you pay special attention to safety, sound and thermal insulation, proper installation and quality of the front doors.
Our expert advisers are available for any questions you may have. Welcome to our showrooms.
---
---
Catalogues
Download catalogues for the latest and most innovative Pirnar entrances. Browse them together with your loved ones.